Years later during 1998, my Menudo 1983 group developed a reunion group called El Reencuentro. When I first heard about them reuniting, I got so excited to see them again and what they look like. I recognized Miguel Cancel and Johnny Lozada right off; their looks didn't change much. I also recognized Charlie Masso, but he changed some: his facial features softened and he straightened his curly hair, but he was still good looking. Ray Reyes and Ricky Melendez changed the most. They have matured inside and out. I was also used to seeing Ricky with braces on his teeth.
Menudo 1983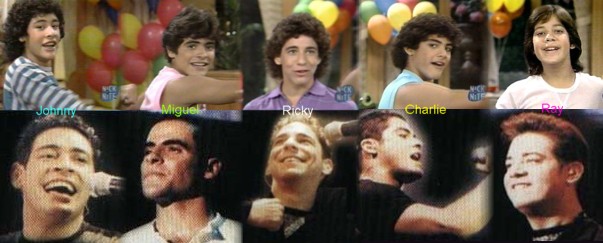 L to R: Johnny, Miguel, Ricky, Charlie, and Ray.
I was unfortunate to not see them in concert. The nearest place I could go to see them was Arizona and that is a state away from me. At that time, I couldn't afford it, because I was saving up for my wedding. If I did go - it would be considered the first Menudo related concert I ever went to...
Ray was the one that developed the reunion and produced it. Him and the other members of El Reencuentro invited a sixth member, Rene Farrait, to join. Rene was a member of Menudo during 1979-1982. Charlie was the one who replaced Rene. I didn't know anything about Rene until this reunion group came about. After getting to know him from television, magazines, and websites, he seems to be a nice guy.
The guys ended the reunion a year later, and I was hoping they wouldn't end so soon. They made three CDs full of ol' Menudo songs. It was great hearing them again. Since the guys have grown up and developed their own unique voices, I could finally tell who sang what... However, I had a hard time finding the CDs to purchase for me to keep and to enjoy.
I made a lot of friends that were Menudo fans, and now we share our memories and stories with each other. I would like to thank Jeani and Jenice (and everyone else) for reminding me of the events that happened during the years when I was a fan of Menudo. They have better memories than I do... Well, shortly after I got to meet my new friends, and El Reencuentro ended their reunion, the guys went on with their own seprerate lives: Charlie got back into acting and starred in a Spanish movie and a musical broadway play. He also modeled for a calander. He personally autographed several copies of the calanders. Of course, I got one of them. I studied that autograph several times, and realized that it wasn't stamped on and it came from a pen that writes fine black lines/writtings. He pressed hard when he siged mine, because you can feel it from the other side of the calander cover. He signed it, "With All My Love, Charlie Masso" (it was in Spanish - of course).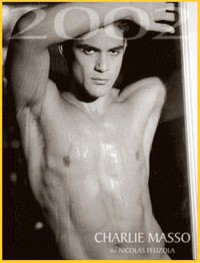 Johnny Lozada automatically got a role starring in a soap opera called, "Amigas y Rivales" (Friends and Rivals). I missed the first several months of that show, but now I watch it as much as I can. I enjoy the show, because it is humorous and it is entertaining. Johnny's character is kind of wild and gets himself in trouble. The first day, I saw him on that show, he was sniffing cocaine and he was drunk. He even couldn't walk straight, and he was screaming and yelling for the longest time. I wasn't used to seeing Sweet Quiet Smiley Johnny like that, so I couldn't help myself from laughing. The cool part of his caracter, he says half of his lines in English. He does a great job speaking in English.
Rene had colon surgery, and all the fans were encouraged to send him "get well" cards or letters to him. I did send him a small letter and told him I wish him to get well soon and hope all is well with him and his family. I also thought it would be an appropriate time for me to say how much I enjoyed El Reencuentro and I hope the group will come back during the year 2002 to celebrate Menudo's 25th Anniversary.
Shortly after he recovered from the surgery, he did annouce to the public that the members of El Reencuentro are in the process of talking about getting back together. I was happy to hear the news, so I have been keeping my fingers crossed that they will get back together.
I got a video of an El Reencuentro concert. It was fun watching it, and seeing those guys perform again. They did the same ol' dance moves. Ray and Miguel traded a couple of their original songs for the lead vocals, but other than that, the guys got to sing their own songs that they sang at the time; Johnny and Miguel sang most of the songs back then. Miguel sang songs like "A Volar", "Quiero Rock", and one of my favorites, "Cuando Pasara". Johnny sang his well known song, "Clara", and he also sang "Dulces Besos" and "Lady" (which were songs that I love). Ricky sang his popular hit, "Cambiale Las Pilas" and the humorous song, "Y Yo No Bailo". Rene sang "Quiero Ser", "Voy America", and when he sang the song "Subete A Mi Moto", he made a special enterance by riding his huge motorcycle on stage. I was surprised that he could do that. Charlie only sang two or three songs, and I was hoping he would sing more. He sang songs like the bouncey tune, "La Chispa De La Vida" and "No Te Reprimas". Ray sang his well liked song, "Si Tu No Estas" and "Zumbadar". Then Ray made a special tribute to Fernando Sallaberry(Menudo member during 1977-1981). Fernando has been battling with a paralyzing neuromuscular disease for some time now. Ray sang Fernando's version of Chiquitia which was written and sung in English by ABBA.